Pittsburgh Gaelic Athletic Association
YOU CAN SUPPORT OUR CLUB BY SHOPPING ON AMAZON. CLICK THE BANNER (MUST BE THE BANNER BELOW), THEN AMAZON WILL DONATE UP TO 10% OF THE PURCHASE PRICE FROM YOUR PURCHASE
What is the Pittsburgh Gaelic ATHLETIC Association?
THE PITTSBURGH GAELIC ATHLETIC ASSOCIATION (PGAA) WAS FOUNDED IN 2010 AND HAS SINCE PROMOTED THE IRISH SPORT AND CULTURE IN PITTSBURGH. OF COURSE, THIS WAS NOT THE START OF GAELIC SPORT IN PITTSBURGH. GAELIC FOOTBALL HAS BEEN PLAYED IN PITTSBURGH SINCE THE 1940S. THE TRADITION CONTINUES TODAY AND THE PGAA IS NOW HOME TO THREE TEAMS, THE PITTSBURGH CELTICS GAELIC FOOTBALL CLUB, THE PITTSBURGH BANSHEES LADIES FOOTBALL CLUB AND THE PITTSBURGH GAA YOUTH TEAM.
AS OF MARCH 8, 2014, THE CLUB BECAME RECOGNIZED AS A 501(C)III NON-PROFIT ORGANIZATION.THE ORGANIZATION'S MISSION IS TO FURTHER THE DEVELOPMENT OF GAELIC CULTURE IN PITTSBURGH. SINCE ITS INCEPTION, THE PGAA HAS OVERSEEN BACK-TO-BACK-TO-BACK MIDWEST CHAMPIONSHIPS (2011-2013 & 2016) AND BACK-TO-BACK NATIONAL CHAMPIONSHIPS (2011 & 2012) FOR THE PITTSBURGH CELTICS. THE BANSHEES HAVE ENJOYED SIMILAR SUCCESS WITH MIDWEST CHAMPIONSHIPS (2011, 2013) AND THEIR FIRST EVER NATIONAL CHAMPIONSHIP IN 2013.
OUR CLUB CONTINUES TO GROW, SO BECOME PART OF THE TRADITION BY PLAYING, SPECTATING OR SPONSORING. WE LOOK FORWARD TO ANOTHER COMPETITIVE 2017 SEASON AND WE THANK YOU FOR ANY AND ALL SUPPORT!
LISTEN TO A COUPLE MEMBERS FROM THE CLUB EXPLAIN GAELIC FOOTBALL IN THEIR OWN WORDS BELOW!
What is gaelic Football
GAELIC FOOTBALL HAS BEEN PLAYED IN IRELAND FOR HUNDREDS OF YEARS. IT IS A FIELD SPORT PLAYED IN EVERY SMALL VILLAGE, TOWN AND CITY THROUGHOUT IRELAND AND ALSO IN MANY PARTS OF THE WORLD. IT HAS OFTEN BEEN DESCRIBED AS A HYBRID OF SOCCER, BASKETBALL AND RUGBY – AND, WHILE IT HAS ELEMENTS OF ALL THESE – GAELIC FOOTBALL IS A LOT MORE. IT IS GENERALLY PAYED ON A FIELD UP TO 145M (160 YD.) LONG AND 90M (100 YD.) WIDE – WHICH IS SHORTENED FOR YOUTH. THE GOALPOSTS ARE THE SAME SHAPE AS ON A RUGBY PITCH, WITH THE CROSSBAR LOWER THAN A RUGBY ONE AND SLIGHTLY HIGHER THAN A SOCCER ONE. THE BALL USED IN GAELIC FOOTBALL IS ROUND, SLIGHTLY SMALLER THAN A SOCCER BALL. THE BALL CAN BE CARRIED IN THE HAND FOR A DISTANCE OF FOUR STEPS AND CAN BE KICKED OR "HAND-PASSED," A STRIKING MOTION WITH THE HAND OR FIST. AFTER EVERY FOUR STEPS THE BALL MUST EITHER BE BOUNCED OR "SOLO-ED," AN ACTION OF DROPPING THE BALL ONTO THE FOOT AND KICKING IT BACK INTO THE HAND. YOU MAY NOT BOUNCE THE BALL TWICE IN A ROW. TO SCORE, YOU PUT THE BALL OVER THE CROSSBAR BY FOOT OR HAND/FIST FOR ONE POINT, OR UNDER THE CROSSBAR AND INTO THE NET BY FOOT, OR HAND/FIST IN CERTAIN CIRCUMSTANCES, FOR A GOAL – THE LATTER BEING EQUIVALENT OF 3 POINTS. EACH TEAM CONSISTS OF 15 PLAYERS, LINED OUT SIMILARLY TO SOCCER. IN YOUTH FOOTBALL, GAMES ARE ORGANIZED PRIMARILY ON A 7-ASIDE BASIS.
OF COURSE, THE SPORT IS MOST POPULAR IN IRELAND IN TERMS OF ATTENDANCE. THE FINAL OF THE ALL-IRELAND SENIOR CHAMPIONSHIP, HELD ANNUALLY AT CROKE PARK, DUBLIN, DRAWS CROWDS OF MORE THAN 80,000 PEOPLE. IT IS ONE OF FOUR SPORTS (COLLECTIVELY REFERRED TO AS THE "GAELIC GAMES") CONTROLLED BY THE GAELIC ATHLETIC ASSOCIATION (GAA), THE LARGEST SPORTING ORGANIZATION IN IRELAND. ALONG WITH HURLING AND CAMOGIE, GAELIC FOOTBALL IS ONE OF THE FEW REMAINING STRICTLY AMATEUR SPORTS IN THE WORLD, WITH PLAYERS, COACHES, AND MANAGERS PROHIBITED FROM RECEIVING ANY FORM OF PAYMENT.
GET A TASTE OF EVERYTHING THE SPORT HAS TO OFFER BY JOINING US AT TRAININGS, EVENTS OR EVEN JUST SPECTATING GAMES. FOR MORE INFORMATION ON BECOMING A PART OF THE TEAM, SIMPLY FILL OUT THE FORM BELOW. WE'LL ANSWER ANY QUESTIONS YOU MAY HAVE, ALONG WITH PROVIDING YOU WITH UPCOMING DATES FOR EVENTS AND PRACTICES.
interested in learning and playing one of the world's greatest sports while having fun too? Sign up below and we will contact you with dates and times for upcoming events & practices.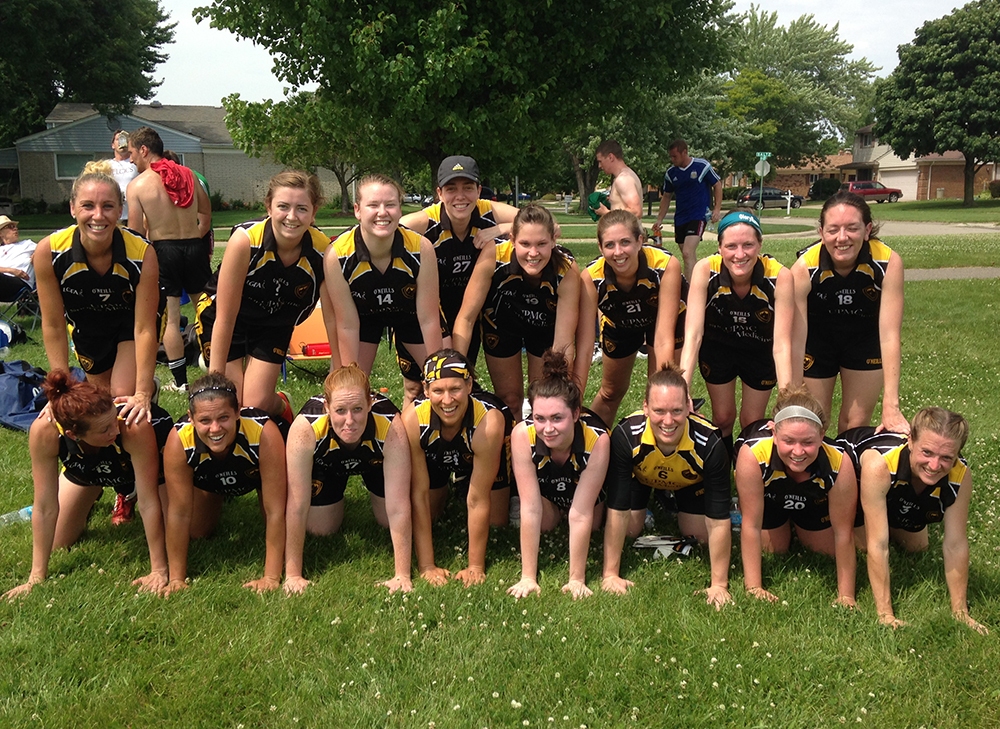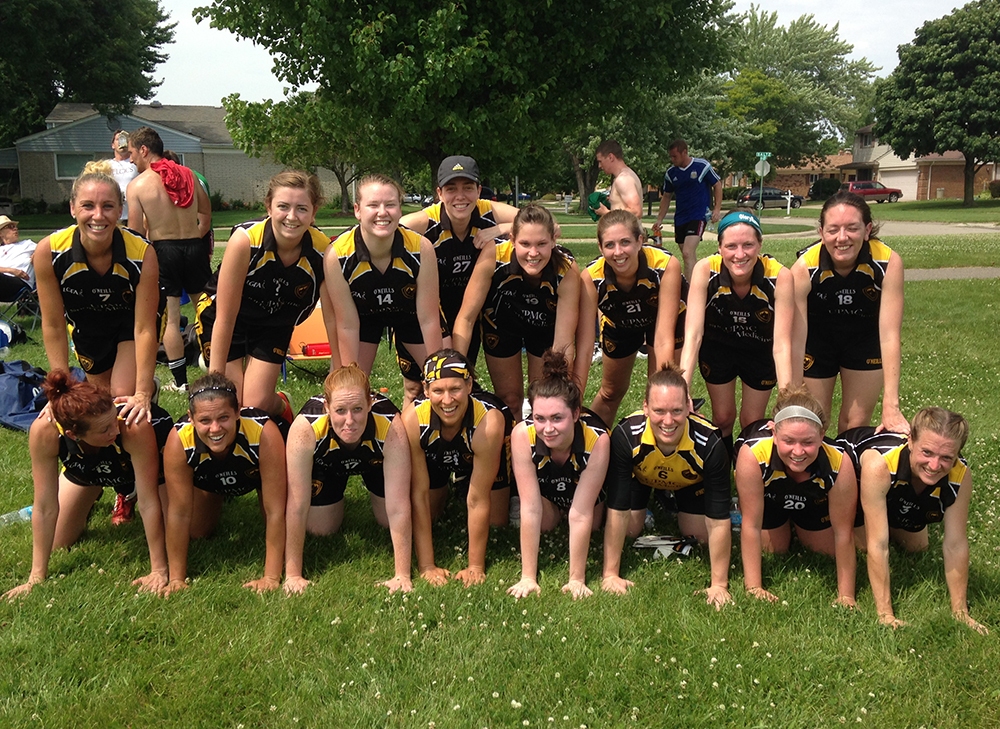 LOOKING FOR WAYS TO HELP SUPPORT THE CLUB? Our mission is to further the development of Gaelic sport and culture THROUGHOUT SOUTHEwESTERN PENNSYLVANIA. As of March 8, 2014, the club is recognized as a 501(c)iii non-profit organization.
Your donation will help all aspects of the club from seasonal fees, management, maintenance, travel, international player support and development.
For donations, simply click "donate here" below. You can also help the club by checking out our fundraising page or becoming a club sponsor. We appreciate any and all support to help further the Irish sport and culture.